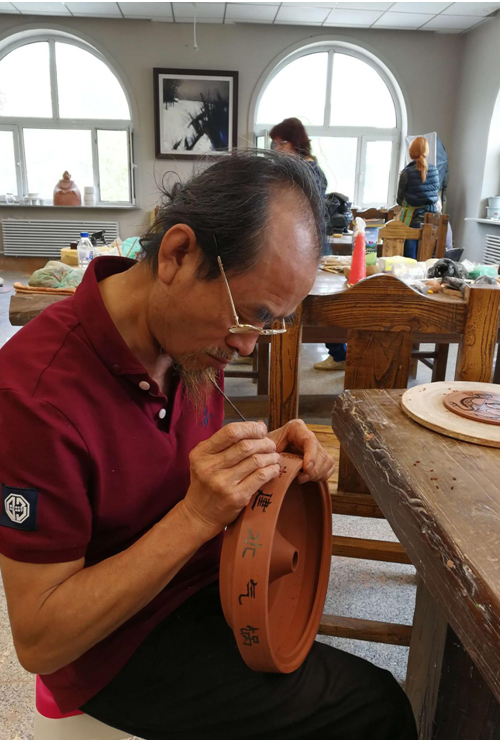 Mr. Ma Chenglin is of the Yi nationality, a minority distributed over Yunnan, Sichuan and Guizhou in China. He was born in 1954 in a family securing the chieftain in Jianshui, Yunnan Province. His family was so poor that he had to enter the pottery factory after graduating from junior middle school. In the pottery factory, he was assigned to one of the most arduous workshops, bearing a lot of heavy work for several years. And with his inborn stubbornness and fortitude, he persisted.

He entered the pottery factory since he was young, which made Master Ma develop a deep feeling for purple pottery. However, his art career was full of ups and downs. There was nothing but heavy work in the pottery factory, through which he became familiar with the process of making purple pottery. As for higher artistic pursuit, the pottery factory can provide nothing to help, so he could only explore by himself. Finally, his hard work pays off. In 1982, Master Ma studied in Xiamen Academy of Arts and Design, where he immersed himself in the art world of study, exploration and practice. Through years of hard work, Mr. Ma has mastered design, painting, molding, carving, firing and polishing, and has become a rare all-round talent in the field of Jianshui purple pottery.

In order to celebrate the 40th anniversary of the normalization of Sino-Japanese diplomatic relations, Mr. Ma Chenglin participated in the Kyoto Culture and Art Exchange Exhibition of Jianshui Purple Pottery - one of China's Four Famous Pottery, and his work Wine Vessel with a Dragon-like Head and Two Ears was presented as a national gift to Kyoto University of Art and Design. His work Bronze-like Desk Lamp has been classified as a treasure of arts and crafts by the State Council and is collected in the China Arts and Crafts Museum. The work Yi Totem Flower Receptacle won the gold medal in the National Ethnic Folk Arts and Crafts Exhibition. The work Ancient Pottery Xun (Xun: an ancient egg-shaped, holed wind instrument) won the Silver Award of the Second Beijing International Fair. The work Art Ceramics (Tibetan Vase) won the Silver Award of 2010 Tiangong Art Gallery Baihua Cup - China Fine Arts and Crafts Award. The work Bowl with Picture and Text of Cangyan Mountain and Soldier's Head-like Wine Vessel in Han Dynasty Style won the gold medal of 2012 Works and Masterpiece Expo of China Arts and Crafts. In 2011, Ma Chenglin Purple Pottery Works Collection was published. In November 2012, his works Cangyan Culture Bowl and Convex Sphere Bottle as representatives of Jianshui purple pottery were sent to be presented in the 18th International Cultural Heritage Exhibition held by China Ceramic Masters League in France. In July 2013, the work Vase with a Picture of Happy Yi Family won the gold medal in the 2013 Masterpiece Expo of China Arts and Crafts. In 2014, Ma Chenglin's purple pottery works were included in the commemorative collection of stamps on the artistic achievements of famous Chinese cultural artists. Ten of his works, including Purple Pottery Wine Vessel with a Picture of Happy Yi Family, Yi Water Pipe, Chariot and Horse-shaped Wine Vessel in the Han Dynasty Style and Cock-shaped Pot, were the first commemorative collection of Jianshui purple pottery ever introduced to the whole country, which has attracted wide attention of stamp collectors and other collectors. In 2016, Mr. Ma was named as "Master of China Ceramic Arts" and "Master of Chinese Crafts and Arts", the only one in Southwest China since the founding of new China in 1949.

Mr. Ma's artistic achievements reflect the artistic altitude of Jianshui purple pottery in this era, and he is undoubtedly a master who inherited and developed Jianshui purple pottery art.

Mr. Ma Chenglin was invited to Changchun International Ceramics Gallery. He was very excited and said, "I thought that Northeast China would be a desert of ceramics, but I find it is the oasis of ceramics actually". He highly praised the achievements of the gallery, especially the big-picture thinking and methods of promoting aesthetic education, and he wrote "美育实践基地" (Aesthetic Education Practice Base in English) and made a ceramic plaque for the gallery .